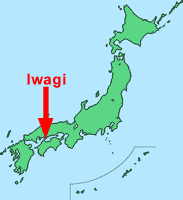 Iwagi Jima, or "Blue Lemon Island" as it has been nicknamed, is a small island in the Seto Inland Sea, between two of Japan's main islands, Honshu and Shikoku. Iwagi is part of Shikoku's Ehime Prefecture, but is closer to neigbouring Hiroshima Prefecture on mainland Honshu, than it is to Shikoku. Iwagi finds itself near, but not joined to, the chain of islands which are linked by the Shimanamikaido Bridge System. The Shimanamikaido (Island Wave Expressway) opened in May 1999 and joins Shikoku to Honshu. Iwagi's residents are of two minds concerning a possible bridge link in coming years, and at present, the only way to access the island is by car ferry, or high speed passenger boat.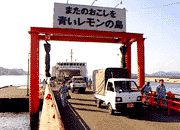 Recreational yachtsmen would also find the island a pleasant stopover destination. This makes Iwagi a relatively small and quiet rural, seaside town. The most prominent structure on the island is a natural one, being Mt. Sekizen. The mountain provides visitors and residents alike with a locale for various recreational activities, as well as the opportunity to experience nature's beauty at its finest. It is especially spectacular in Spring, when its 2000 plus Cherry Blossom Trees are in full bloom.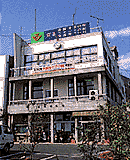 Iwagi residents enjoy a relatively mild climate by Japanese standards, with temperatures in Summer averaging 33 degrees Celsius. Humidity is quite high, but the muggy weather is eased by sea breezes. In Winter there is occasional light snowfall and an average temperature of 7 degrees.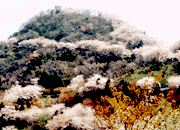 There is no railway line and no traffic lights in the town. The main road which runs the circumference of the island is mostly a single lane, and drivers travelling in opposite directions must pull over to let each other pass. This is done in true small town Japanese fashion, with a wave and a bow. Iwagi's population has a quiet lifestyle, with the peace often only split by the horn of a docking ferry, or the musical chimes which signal the time 5 times daily.